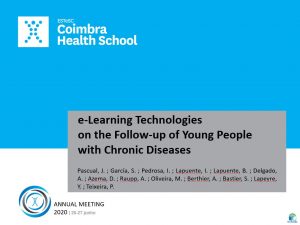 On 27th June 2020 we will present an oral communication at the Annual Meeting 2020 – HEALTH 4.0: DESIGNING TOMORROW'S HEALTHCARE. Entitled e-Learning Technologies on the Follow-up of Young People with Chronic Diseases, it aims at presenting the Tichron project and the technological tools that have been developed in its scope.
These tools were designed to solve the problems identified in the monitoring, treatment and empowerment of children with chronic diseases (asthma, diabetes and obesity), involving sectors of society that regularly interact with these children.
Thus, we will present the e-Learning platform, the Game, the Web Application (for medical users) and the Chat bot.
More information about the project at https://www.tichron.eu or on the Facebook page at https://www.facebook.com/tichron/.