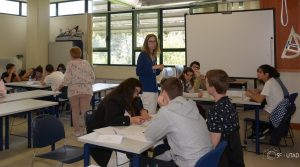 Future Balloons colaborated in the event "Day of Critical Thinking", held at the University of Trás os Montes and Alto Douro, on May 15th, at the School of Sciences and Technology. This event was part of the Crithinkedu project led by UTAD.
More than 150 students, teachers and professionals from different schools, universities and companies were gathered, among other organizations from many different areas, such as health, engineering and tourism, among others. Students from the University of Trás os Montes and Alto Douro, the Nervir Professional School, the Superior School of Tourism and Hotel Industry of Seia, the School of Hotel Industry and Tourism of Lamego and the Faculty of Medicine of Porto participated.
The meeting, with a very practical component, worked as a "contest of ideas", in which the participants were based on the use of their skills in critical and creative thinking in solving problems of the current reality, both in a personal and professional context. Represented by Clara Rodrigues, Future Balloons carried out consultancy tasks with the students and worked on setting up the jury and evaluating the proposals presented by 30 working groups. In the morning, topics such as isolation and desertification in the interior were discussed, the inclusion of alternative therapies in the national health service, the viability of Montijo's airport, invasive advertising and online privacy. In the afternoon, presentations of solutions and / or positions were made by cooperative and multidisciplinary groups of students to the audience, based on the problems and situations discussed previously.