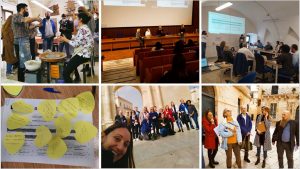 Future Balloons has attended the Learning Teaching Training Activities (LTT) at Associazione Culturale EduVita E. T. S. from 29th to 31st of March 2022, as a partner involved in the ERASMUS + project AGE:WISE – Across Generations at Eye Level: Ways to Integrate Seniores by Education.
We had an amazing tour around Lecce with some seniors, we also did some arts and crafts with ceramics and explored the local approaching accessibility and inclusion for elderly and disabled people.
We presented the AGE:WISE tools and E-Learning platform to students and how to extend the AGE:WISE community.