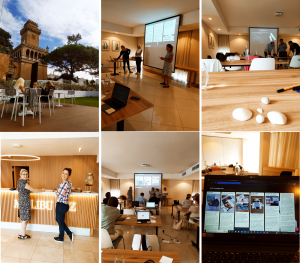 The LTTA (Learning, Teaching, Training Activity) in the framework of the Erasmus+ Regional Learning Communities and Facilitators project took place from 26th to 30th September 2022 in the beautiful coastal city of Figueira da Foz, Portugal, being Future Balloons, the organizer and host of the event.
Having as main objective to test the FACILITATING LEARNING COMMUNITIES CURRICULUM, the 24 Austrian and Swedish teachers participated in an active and committed way in the event.
Some modules of the curriculum were covered, namely: Organising for Clarity, Participation, Cooperation, Sharing and Organising and Designing (Regional) Learning Events, presented by the project partners.
The project promotes learning communities and cooperation, with an online platform, with examples and didactic materials to develop learning communities. It was a time of great sharing, cultural exploration and individual learning.
More information about the project can be found on the website: https://www.communities4learning.eu/