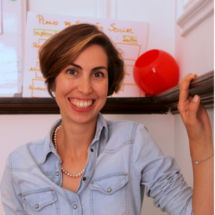 Co-founder of the company, Clara Rodrigues is graduated in Educational Sciences and has a post-graduation in Social Economy (University of Coimbra).
In Future Balloons she works in the innovation and human resources areas.
Her areas of expertise: applications, project conception and implementation; development of partnerships; external evaluation; consultancy using design thinking, co-creation and user-centered innovation.
She is a sweet tooth, loves chocolate and ice cream.